We want to help you get the most out of your virtual reality equipment both at home and with your patients. We have downloaded and tested all the Meta apps focused on mental health with scientific evidence. In this article we share with you our 9 favorite apps for stress reduction with VR.
What happens when we get stressed?
In situations that we perceive as stressful, the body responds by releasing cortisol and other hormones that increase blood pressure and raise your heart function. This is called «stress response» and relaxation techniques are of great help to keep it under control.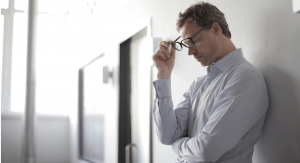 Relaxation techniques can help deal with everyday stress and stress from various health problems (e.g., distraction from pain). Whether stress is out of control or under control, a great health benefit can be gained by learning relaxation techniques.
Relaxation techniques to reduce stress
There are countless techniques for all tastes and preferences. The best thing to do is to try several until you find the one that works best for each person and that can be incorporated into your routine as a habit. Relaxation is a skill and as such requires constant practice.
Autogenous relaxation: consists of inducing states of relaxation through auto-suggestions on body sensations and focus on breathing.
Meditation and Mindfulness: guided or free, it consists of paying full attention to the stimuli of the present moment, observing and letting go of the thoughts that appear during the process.
Cognitive restructuring: helps to perceive stressful thoughts from a more adaptive and less worrisome approach.
Distraction: serves to leave aside for a while those agents that are stressing us, directing the attention to other pleasant and enjoyable ones.
Visualization: induce peaceful sensations through imagination.
More alternatives:
Tai Chi
Yoga
Biofeedback
Art therapy
Aromatherapy
Hydrotherapy
Massage
Etcetera
Benefits of meditation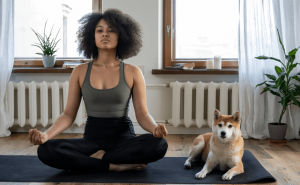 The benefits of maintaining focused attention, silence and deep breathing are numerous.
A wide variety of studies have investigated these benefits and it is now empirically confirmed that consistent meditation training increases sustained attention (Semple, 2010) and concentration, which implies the interest or motivation to maintain sustained attention over time.
Can virtual reality help us in relaxation?
Using these techniques through virtual reality is easy because it can help induce the techniques mentioned above in an indirect or direct way, without requiring active effort and without the need for prior knowledge of the techniques.
At Nesplora we have tested and analyzed different virtual reality applications focused on relaxation, meditation and concentration and we share with you our 9 favorites: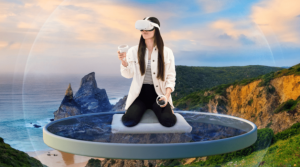 This application seeks to create a study environment to meditate from the comfort of where you want to practice. It induces a sense of presence through different types of meditation and mindfulness practices.
TECHNICAL SPECIFICATIONS
It offers a variety of daily study classes, a library of options that grows as experiences are in demand, breathing practices, events and workshops each month, expert instructors, «Real studio» community progress log, mood quizzes, meditation area customization and other updates.
To use this app, an internet connection and two Meta Touch controllers are required, which are the only compatible controllers and not the hand tracking controller.
Regarding the experience, the supported player modes are seated and scrolling, with a static meditation environment that is customizable.
THERAPEUTIC VALUE
It can complement a therapy set by a professional and can also be used as a daily training to prevent stress. Like conventional meditation, it is focused on stress control, tension, anxiety management and general relaxation training.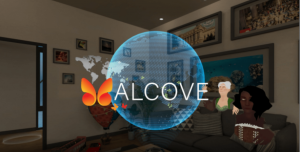 It simulates a virtual home consisting of 5 areas where different activities can be carried out. It is also a virtual social environment to share with people close to you.
Suggested activities include traveling and exploring different urban and natural places around the world, playing games, audiovisual reproduction, adventure, relaxation and meditation…
TECHNICAL SPECIFICATIONS
Alcove is categorized in «apps» and within the genre «Exploration, Social and Travel». As mentioned above, this VR home has 5 areas in which different activities can be performed:
In the lounge you can play multimedia games of your choice, including surfing the Internet.
In the dining room or lounge extension you will find the social area and you can also play games of pastime and mental ability.
In a third room are all the experiences related to exploration and travel (e.g. diving and 360º exploration of the Great Barrier Reef in Australia).
The corridors are crossed by customizable natural environments.
On the terrace you can do physical exercise tasks, mental exercise tasks and games, periodically updated articles can be consulted and finally, guided and unguided meditations can be conducted in a nature environment.
Alcove's other applications include social interaction and thus the sharing of photos and memories, and music playback.
This tool is programmed to be used in sitting, standing and scrolling modes accompanied by a static background – the natural environment – which can be customized.
THERAPEUTIC VALUE
This application has a multidimensional therapeutic value. Its main focus is on creating a safe environment, which can be complementary to personalized therapy. It also promotes the user's well-being through evasion and distraction by attempting to protect the user from complete isolation with the option of multiplayer. It also promotes relaxation, stress control and anxiety management through meditation and exploration, as well as mental and physical exercise.
Additionally, it can be said to have many positive reinforcement components to consider:
Exploration of difficult places through reality
Natural environments to choose from
Possibility to interact with an interactive virtual pet.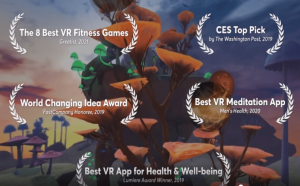 It seeks to promote feelings of concentration, calm and happiness in the user. It has been awarded by Men's Health and VR Fitness Insider as the best meditation VR app.
DESCRIPCIÓN TÉCNICA
It consists of more than 75 guided and immersive mindfulness meditations, sounds that reproduce binaural listening, breathing exercises to settle the mind and induce relaxation, customization of meditation types and exercises, and a progress log via «TRIPP mobile».
Among the meditations instructed via audio we can find those on concentration and calm, and experiences of evasion and distraction.
As for the experience itself, before starting and after finishing, the user is asked for data on mood on a scale of 1-10 and to select in which mood mode or modes the user is in.
The experience is intended to be conducted seated and sometimes with a moving background.
THERAPEUTIC VALUE
It could be considered as complementary to a core therapy or to promote wellness. Experiences are oriented to calmness, types of breathing, letting go of fear, mindful and present experience, gratitude and connecting to happiness, managing stress and reducing anxiety and, perspective change (cognitive restructuring).
Considering the psychological paradigms involved, it could be considered to have a very therapeutic applicability especially to help manage daily stress and to promote positive feelings.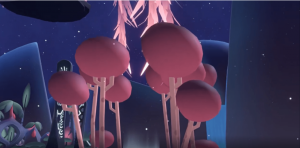 It focuses on promoting the well-being of the user by suggesting the understanding of a relaxed and safe inner world and the constant practice of mindfulness.
In addition to having a space for personal introspection where the user enters an island with different meditation and relaxation challenges. He is accompanied by a «spiritual guide» who advises him and registers his progress. As the user progresses, accessories are added to the island and it develops.
TECHNICAL DESCRIPTION
MaloKa is categorized as «App» within the genres «Relaxation/Meditation» and is designed to follow the instructions of the spiritual guide and unlock levels of tasks in proportion to the progress made in Mindfulness.
At the beginning of the experience the user will be awarded:
A customizable spiritual guide who will be the user's guide and companion throughout the experience.
An environment/ oasis.
Other accessories that evolve as the meditation practice progresses.
Progress will also be positively reinforced by unlocking new experiences focused on introspection and a better understanding of the user's well-being.
THERAPEUTIC VALUE
Its therapeutic value covers all the utilities that a meditation and Mindfulness practice could have, such as relaxation (controlling stress and managing anxiety), training continuous attention, etc. Moreover, taking into account the characteristics of the application it could be said that it can be used:
To create a safe individual space.
To foster gratitude for the type of tasks performed.
To obtain positive reinforcement and generate positive emotions towards oneself and the environment.
To encourage introspection and perspective-taking by the user.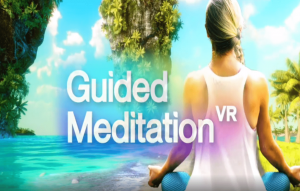 It is a simple and visual application that has been rebuilt from scratch for Meta Quest.
It offers 40 different settings available for the meditation you want to follow, guided meditations, a high variety of relaxing music tracks to choose from and even a floating mode to seek a further meditation experience.
TECHNICAL DESCRIPTION
Guided Meditation VR is categorized as «App» within the genres «Occasional, Relaxation/Meditation and Travel». The app includes:
40 different environments to choose from to conduct meditations in
30+ hours of guided meditations on anxiety, acceptance, mental exhaustion, compassion, happiness, concentration, forgiveness, relaxation, depression, motherhood, resilience, sleep or zen
300+ relaxing audio tracks designed to enhance the experience, a fully customizable mode to adjust the meditations as the user desires
A meditation timer for those meditations that are not guided and a «float mode» where it simulates the user being at altitude while performing the meditation.
The application is aimed at a single user making use of Meta Touch controllers (one controller is sufficient) and hand tracking.
THERAPEUTIC VALUE
Complementary to therapy or to promote wellness and as a preventive measure, especially in relation to the topics being treated:
Anxiety management and stress control
Acceptance
Mental exhaustion
Compassion
Happiness
Concentration
Forgiveness
Relaxation
Depression
Motherhood
Resilience
Sleep
Zen
Designed to achieve an immersive experience in 11 types of virtual natural environments to induce the user's escape from everyday life and relaxation.
Among the functions offered are exploring natural environments and observing different animals and editing the environment (rocks, trees, night/day) as preferred.
TECHNICAL DESCRIPTION
This is a simple usability application categorized as «applications» and within the genres «360º Experience, Relaxation/Meditation and Simulation».
The user encounters 11 types of natural environments:
Jade jurassic
Blue moon
Red savana
Blue ocean
Green meadows
Black beginning
White winter
Blue deep
Red fall
Orange sunset
Green bamboo
The scenarios are static with a simulation of moving animals. In these, you can sit or stand and explore the environment using the scrolling option of the two Meta Touch controllers, or else with scrolling.
The environment can be customized with one of the two controllers indiscriminately and by selecting and dragging with the other controller the 6 customization options (from day to night environment, weather, planting trees, attracting animals, placing objects and placing butterflies) available.
THERAPEUTIC VALUE
Among its therapeutic uses could be considered the creation of safe zones of meditation, sense of presence, relaxation (with stress control and anxiety management), introspection, distraction and even as positive reinforcement. In addition, this application has been used to carry out a wide range of studies, including a study of oncology patients undergoing chemotherapy.
The findings revealed that, however much the induced psychological state failed to reduce physiological pain ratings, patients found the chemotherapy experience more pleasant than those who did not use the application (Ashley Verzwyvelt et al., 2021). In another study it was found that the virtual reality app intervention produced more satisfaction and reliability in interventions for stress and post-traumatic stress-related disorders and overall psychological well-being. Specifically in post-traumatic stress disorders, there was an improvement in terms of feeling of presence (staying present) and vividness (closer to reality, less derealization) in the condition of virtual reality use (Frewen et al., 2020).
Similarly, in order to study the therapeutic utilities of this application and the pandemic situation there is a recent study that aims to promote a stress reduction protocol in adolescents in isolation (Sonney et al., 2021).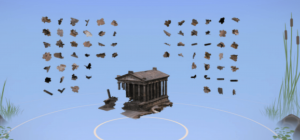 Puzzling Places is an application for solving three-dimensional puzzles that are hyper-realistic miniatures of places, monuments, museums and even other cultural pieces.
This application is aimed at solving the puzzles while inducing a meditative state and once assembled, the locations come alive with immersive soundscapes.
TECHNICAL DESCRIPTION
This application categorized as «Game» falls under the genres «Exploration, meditation/relaxation and puzzles».
Included in the experience are 16 puzzles based on 3D photogrammetry of real locations. Each puzzle is available in 25,50,100,200,200 and 400 pieces (customizable difficulty, making it suitable for cognitive training). Offered locations are:
The city of Biarritz: 3 jigsaw puzzles of the French Atlantic Coast
Armenian cultural heritage (5 puzzles of monasteries, fortresses and temples)
The Hallwyl Museum (4 rooms of the palace residence in Stockholm)
Individual puzzles (4 puzzles from traditional Japanese elegance to a city on the sea).
The application is designed to be used both seated, standing and with scrolling in a static environment. The gameplay requires Meta Touch controllers, a storage of 351.9 MB and an internet connection is only necessary for downloadable content (e.g. updates).
It is available in Spanish (Mexico), German, Korean, French (France), English, Korean, French (France), English and Japanese.
THERAPEUTIC VALUE
It has a clear cognitive training applicability and it is also programmable based on the difficulty. Because it belongs to the puzzle modality, the therapeutic utilities mentioned below can be considered:
Complementary therapy for distraction and relaxation -stress control and anxiety management-, positive reinforcement.
To train three-dimensional visuospatial mental skills, decision making and logic, proprioception and coordination of movements as cognitive training mentioned above.
For rehabilitation of brain connections with hand movements and coordination.
Complementarily to treat, evaluate and train skills related to agnosia and difficulty in recognition of visual stimuli since the puzzles are based on real and logical compositions.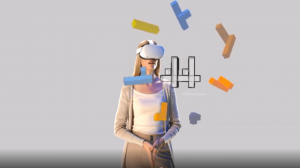 It seeks to relax and exercise the mind (decision making and spatial intelligence) through a visuospatial component, that is, by completing puzzles with three-dimensional virtual pieces.
TECHNICAL DESCRIPTION
Although this application is categorized in «games» it falls into the genres «Educational, Relaxation/Meditation and Puzzle» so it could be considered a serious game (video games that are used for example in the educational and scientific sector).
The main objective of the game technically speaking is to solve puzzles (up to 90) and allows to do it in a way of ascending complexity and customizable. This mental exercise can induce in the user a relaxing atmosphere.
This application is formulated only to have a single user sitting, standing or scrolling to choose from on a static background. Supported controllers for puzzle solving are Meta Touch (two joysticks) and hand tracking. On the other hand, among the languages available on the platform are: Spanish and accents (Venezuela, Argentina, Peru, Spain, Puerto Rico, Chile, Mexico and Colombia), German, Chinese, Korean, French and accents (Belgium, Canada and France), English and Japanese.
THERAPEUTIC VALUE
Its therapeutic usefulness is varied as it emphasizes different psychological concepts such as the use of high executive functions (decision making), relaxation and distraction, and spatial intelligence. Therefore, it can be used for:
Complementary to psychotherapeutic therapy for relaxation through distraction and positive reinforcement -when solving puzzles-. In the same sense it can help to control stress and anxiety management.
To train three-dimensional visuospatial mental skills, decision making and logic, proprioception and coordination of movements.
For rehabilitation of brain connections related to hand movements and coordination.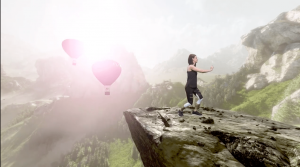 Simulates and guides the user to experience the exercise-meditation of Tai Chi (gentle, low-impact exercise that is safe for people of all ages and is considered a physical-spiritual practice to improve the quality of life both physically and mentally).
Guided Tai Chi allows you to exercise and learn different techniques through the simulation and the movement indications that appear in it.
TECHNICAL DESCRIPTION
This application is in the category «games» and within the genres «Sports, Meditation/Relaxation and Simulation». The guided exercises are followed by the trails marked on the two Meta Touch controllers used.
Among the offerings are more than 200 Tai Chi exercises inspired by 20 different natural environments that last between 3 and 60 minutes (each exercise session).
The tasks depending on the game mode will follow the instructor and the lines or stelae marked on the two controllers Meta Touch to simulate the movements of Tai Chi (includes only movement of hands).
The user will be able to find different game modes such as:
FLOW MODE: consists of 100 different guided meditative sessions perfect for beginners,
ARCADE MODE: to compete with yourself and earn points with the exercises.
WORLD TOUR MODE: a marathon of exercises of 15 to 60 minutes aimed at body resistance while doing meditation.
To optimize the experience, audio modes, teacher, exercise correction by vibration and natural environments can be adjusted.
The exercises are intended for a single player who can stand and move (in a static environment). It is only available in English and internet connection for usability is not required.
THERAPEUTIC VALUE
As main therapeutic utilities would be meditation, relaxation -stress control and anxiety management- and release the tension acquired by stress, i.e., the same utilities that could give the martial art of Tai Chi.
It promotes slow and relaxed movements, careful postures, concentration, and deep breathing. In addition, as a positive point, the type of easy guidance of the exercises makes it adaptable for any type of age and functional diversity.
It could also be considered as an accompaniment to some type of motor rehabilitation, or even as a preventive measure to increase not only mental but also physical well-being.
---
We hope this list has encouraged you to find new uses for your virtual reality glasses at home and with your patients.
Are you already taking advantage of virtual reality as part of your treatment? Optimize your assessments as well and… join the professionals who are at the forefront of Neuroscience!
You can also write to customers@nesplora.com and we will contact you.
Follow us on Facebook, Twitter, Instagram, LinkedIn & YouTube for more content like this.